Making a Map for Camping and Villages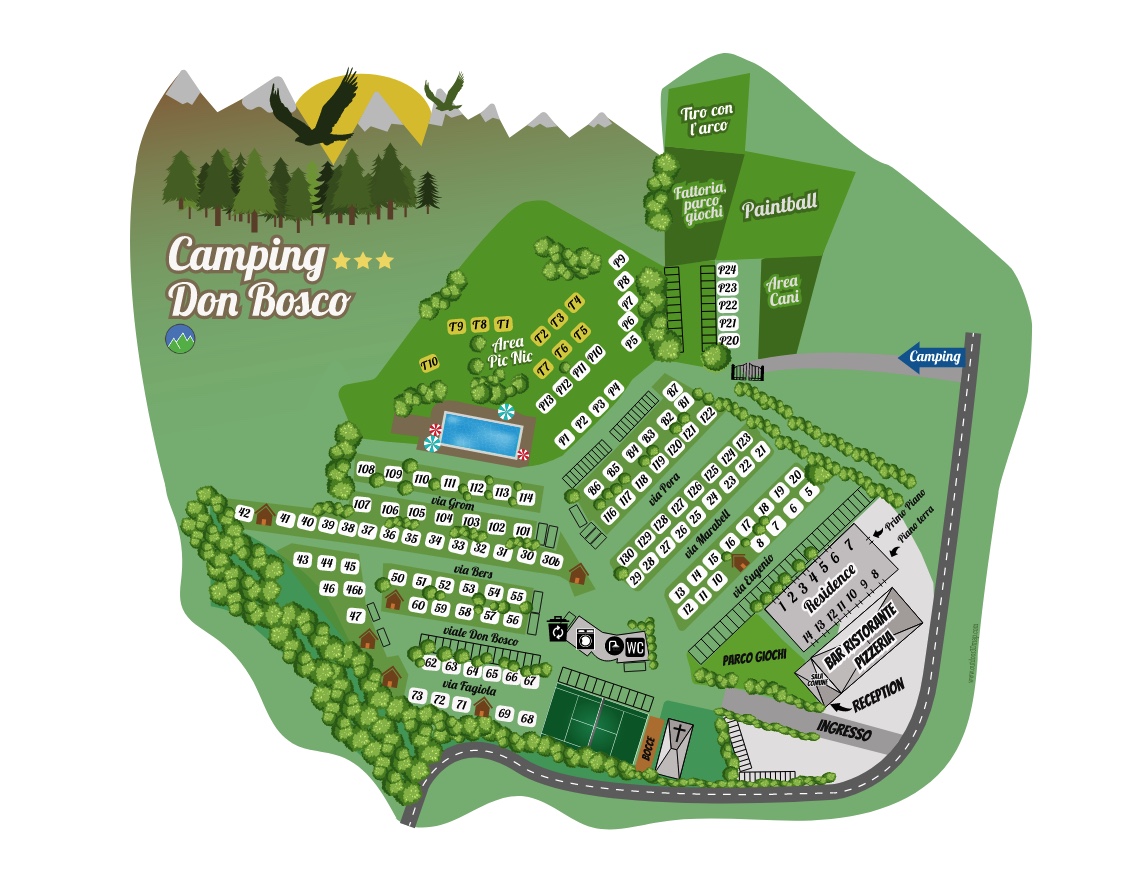 Expert Campsite Map Design - Create Stunning Camping & Village Maps for Tourists at an Affordable Price. Uncover the Beauty of Camping and Villages with Our Expertly Designed Maps
When we make a Camping map we think to some features
Need to be clear and show to guests the camping area in a cool and easy way
A camping map need to be easy to customize and upgrade becouse of new assets or changes in the camping areas
Need to be usefull for printing on a little flyer or big panels and of course for the web site.
The Campsite map is one of the first things guests will see
The camping map it's not only a map! It's also a marketing product that tell to client how we are organized and the care we take for our camping.
Looking on some camping web sites we can find bad and poor maps, what are we saying to the unconsciuous brain of potential clients? We are poor!
A cool, colored, brand new map it' actractive for out potentials clients.
Different type of Maps for your Camping
Maps could be very easy (2D camping Maps) or detailed and very nice (3D maps with elements in details).
Maps are basically drawings, so costs depends on how much we want the map be cool, original and detailed.
If you are interested on make a map for your camping or village contact us and provide info about the location and the destination of the map for example:
Camping map for the web site page
Printing the Camping Map on a big panel
Map for flyers
10 Reasons Why a Clear and Detailed Campsite Map is Essential for Your Camping Experience
Navigation: A clear and accurate map can help campers navigate the grounds and find their way to their campsite, facilities, and other amenities.

Site Selection: A detailed campsite map allows campers to choose their preferred campsite location and view its features, such as proximity to restrooms, water sources, and other amenities.

Planning: A well-designed map can help campers plan their trip by identifying the best route to take and the facilities and amenities available at the campsite.

Safety: A clear map can help campers locate emergency exits, fire lanes, and other safety features, ensuring a safe and enjoyable camping experience.

Organization: A detailed map can help the campsite staff manage the grounds, facilities, and resources more efficiently, allowing them to respond to the needs of the campers quickly.

Marketing: A well-designed map can be a valuable marketing tool, showcasing the beauty and unique features of your campsite and encouraging new guests to visit.

Accessibility: A clear and accurate map can help campers with disabilities or special needs identify accessible routes, facilities, and campsites, making the campsite more inclusive.

Increased Satisfaction: A clear and helpful map can enhance the overall camping experience and increase the satisfaction of your guests, leading to repeat visits and positive word-of-mouth.

Problem Solving: A detailed map can help resolve disputes and problems, such as conflicting campsite reservations or misunderstandings about campsite locations.

Emergency Response: In case of an emergency, a clear and accurate map can help first responders locate the campsites and facilities quickly and effectively, ensuring the safety of your guests.
Discovering the Surroundings: A useful Guide on the Map of Your Campsite
In addition, a well-made map can also include information about attractions and sports activities available in the vicinity of the campsite. For example, the map can show places to visit in the area such as national parks, tourist attractions, or nearby cities. This helps campers plan their days and discover what there is to see and do in the surroundings. Moreover, the map can also display opportunities for outdoor activities such as hiking, fishing, cycling, or horse riding. This information can be very helpful for campers who are trying to make the most of their outdoor experience.